first day of school
I plowed through traffic, fielding text messages and phone calls from clients, just in time to meet
Sage
and
her mother
at the elevator. It was my daughter's first day of school and I would not miss it for the world.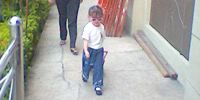 "Dad!" Sage said, her surprised face breaking into a smile. "Are you coming with me to my school?" She did not think I would make it since my work day is sometimes quite hectic and I'm almost never at home for lunch.
"Of course," I replied, catching my breath.
Then I ran ahead to take pictures as my little girl walked down the sidewalk, with her hot pink shades and with one of her arms pulling her pink Barbie schoolbag behind her.
"Dad, you're taking my picture," she told me sternly.
"Just a few shots," I told her and asked her to stand still for moment.
"No, Dad," she said, walking past me. "I'm going to school."
And what a wonderful school it was. Nikki had gone there before and met with the teachers and all, but it was my first time there. Everything looked spic and span, and there they weren't kidding when they said that their ratio of teachers to students was better than other schools.
When Nikki and I saw her integrate happily with the other kids, commandeeing a jigsaw puzzle, we bade her goodbye, expecting tears.
"Bye Mom, bye Dad," she said, favoring her parents with a brief look, before happily returning to her task of making new friends and exploring education.
So we left feeling an absurd sense of pride and accomplishment, and I thought about how everything just moves so fast, so very quickly.