ménage à trois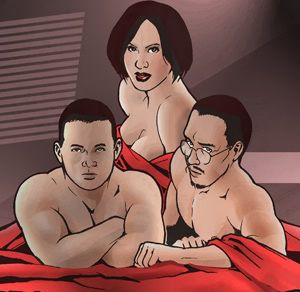 I was rooting around my files when I found the image above and proceeded to have a laughing fit.
For the Levis
'ab ovo'
comic book project a while back, I commissioned original short comics from some of my favorite Filipino comic book creators including
Oliver Pulumbarit
(
Lexy, Nance & Argus: Sex, Gods, Rock & Roll
),
Arnold Arre
(
Mythology Class, After Eden
),
Carlo Vergara
(
Zsa Zsa Zaturnnah
), big shot Seven Seas manga star
Hai
(
Blade for Barter
),
Marco Dimaano
(
Angel Ace, KIA
),
Jason Banico
(
Baylans
and an upcoming pair of short horror anthos),
Vin Simbulan
(
Isaw Atbp
.),
Nikki Alfar
(
Mango Jam
!), and several new talents (even then I was already an anthologist and consumed with a "let's-propagate-comics" agenda). The client loved the issues we produced and was quite impressed with the fact that we had a mix of Palanca and National Book Awardees on the books (yes, sometimes these awards do have relevance outside the usual literary circles).
For the creators' bio pages, supertalented Carl drew and colored the risqué illustration above, with me, Nikki and him in bed, with me looking as only Carl can draw men – buff and delectable.
Only in the funny pages, folks. ;)