yamato
I celebrated my birthday with family and friends at the Yamato resto, named after the famed Japanese battleship (or Spacecrusider, if your memory is more anime pop). I gave in to the astounding serving of filet mignon teppan-style, with chef juggling eggs and the works. Sage was riveted, and a little bit scared of the fire, but we all had a good time (I got acquainted with a little alcoholic drink called "The Ninja", which, if it were an actual ninja, would be pretty accommodating).
Flame on!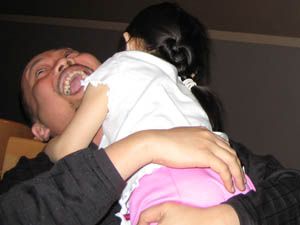 Sage says "No to forest fires".
Sage led the "Happy Birthday, Daddy" song, accompanied by a gong.
Father and daughter reprising "Memoirs of a Geisha".
Daughter, wife and mother-in-law - all beauties.