canvas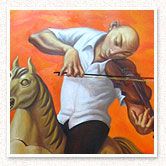 In an exchange of letters over the topic of my upcoming spec fic antho, poet and fictionist
Cyan Abad-Jugo
told me about the
Canvas First Annual Children's Storywriting Competition.
Just like those writing challenges that pop up all over the internet, this contest requires you to write a 2000 word story based on an oil painting (cruelly cropped, above) by artist
Elmer Borlongan
. The winning author will have his or her story fully painted by Emong and then published.
Deadline for entries is August 15, 2005. Download details as a PDF
here
.
It's a very interesting challenge, given the small number of words and the fact that your story will inevitably have a guy playing a violin on rocking-horseback. But apart from the delight in writing, the adrenalin-high of competition, and getting your story painted and published, the P30k prize money is a very decent prize.
Nothing to lose by trying, so
sige, subukan
. I'll give it a shot myself though children's literature is not exactly my strength.