weekend features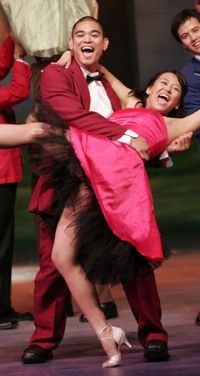 footloose
Okay, I must confess I went to the Meralco Theater as a guest of
Nikki's
(in fact, she's written about this too, so head on over there after this) with very low expectations. I mean, come on, Jay-R in the lead role? That skinny bald dervish endorser of Sun Cellular? Please.
However, I left a convert. This guy is so talented, it's frightening. He can sing, dance (he is so fluid, so natural and so male – you know how some dancers subvert their outward masculinity and betray their sexual orientation, which of course is not a bad thing so get off my case) and act. Plus he speaks well, due to his upbringing in the US. Whenever he was onstage, there was energy and magic.
Sadly, apart from Audie Gemora and Agot Isidro-Sandejas, the cast was lackluster. They were just too young and inexperienced, albeit energetic. Chari Arespochaga's direction was erratic, with baffling blocking (we had great seats in the orchestra, by the way) and many questionable staging choices.
Musically, it also sounded like a hodgepodge of things. The film soundtrack is represented, with all the familiar pop songs (Holding Out for a Hero, Let's Hear it for the Boy, plus the eponymous title track). But the addition of "Broadway-esque" songs were jarring (you know this kind, it's the kind of song made fun of in Spamalot's "The Song that Goes like This").
However, as a whole, the play was entertaining, a pleasant diversion on a Saturday afternoon. What saved it was Jay-R and the fantastic crab sandwiches and barbeque over at the snack counter.
It did get me thinking of the next full-length play I'll write. It'll be a music-less musical with lots of dancing that ends in tears (that's what I get for reading
Alvin's
play).
the brothers grimm
Go and watch
this film
by Terry Gilliam. Really. Just do it. You'll love the performances of Matt Damon and Heath Ledger in this sumptuously rendered story about a pair of charlatan brothers in 19th century Germany who use fairy tales/marchen to fill their pockets. Things change when what they thought was make-believe turns out to be something terrifying real.
Given the fact that Nikki and I are fairy tale junkies, it was inevitable that we'd like it. We stayed for the end credits just to applaud the screenwriter and the production designer. It is not to every critic's taste, but fuck them - it's so much better than the recent mass market drivel.
Trust the toad!