small shots
My shoot day started at 7AM at a finishing school in Rizal that offers advanced courses in electronics, IT, chemistry, physics and all these things that are so alien to my usual artsy frame of reference. I had a number of layouts to complete, quite challenging in terms of how I conceptualized them and it was good to start early. While my models were being made up, I conferred with my photographer to begin setting up his lights. For the first shot, I wanted green gel to give the photo a certain ambience - it worked (by the photos here are taken with my PDA and are not what I will give client - I use them as test shots for angles, lighting, etc.)
During the chemistry set-up, I raided the school's supply of materials because I wanted color. I wanted what people imagine chemistry labs to look like: exotic powders, bubbling beakers, chromatic metal filings, esotoric flasks and beakers. I even threw in a little "blue salt" direct from my weekly RPG game, Isle.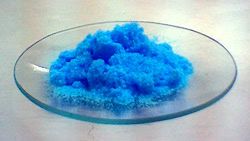 After all the required shots, we drove to Novaliches (which Nikki insisted is where the New Undead folk roam, tearfully commending her husband on his bravery). I was there to shoot a children's library and its wormy mascot and did not encounter the undead.
While setting up the shots, this little boy in a Spider-Man costume plopped down on a couch and began to leaf through a book - an irresistible subject to shoot. I managed to breeze through the mascot shots because I was very concerned with the guy inside the padded costume. Mascoteers have it rough - they get dehydrated quickly, have difficulty moving and oftentimes are as good as deaf and blind. This poor guy was all of the above and, in addition, almost got his eyes pierced by faulty wiring in the inside of the mascot's head. It's an interesting exercise, directing a mascot who cannot hear or see you plus handling the gaggle of kids.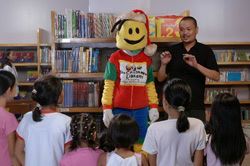 All of the kids in my shoot come from public schools and I learned that they were all on half-day sessions throughout the school year, for both grade school and high school. The morning session starts at 6AM and ends at around 12. The afternoon session is from 1PM to 7PM. Why aren't they in whole day sessions with more reasonable times? Because we do not have enough schools and teachers, that's why. So we educate our kids in shifts. It's appalling.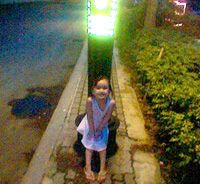 I'm thankful we are able to give Sage better educational opportunities. But my heart bleeds for all the other kids. Where Sage gets new books every week, very few of these kids own their own books. This is where the idea of a children's library makes a difference. Now I feel terribly guilty about all the books cullings Nikki and I have performed all these years, when we'd simply throw away the books we no longer wanted instead of donating them.