comicland
Look at what my friends are up to:
Get ready for
Gerry Alanguilan's
next serious work (after
Wasted
)...
Elmer
! Reseached by the Komikero since 2004! Believe it or not! I'm way ahead in line for this chicken! But if you can't wait, revel in
Crest Hut Butt Shop
. Go ahead, don't be afraid.
Two-time National Book Award-winner
Arnold Arre
(
Mythology Class
,
After Eden
) offers a tantalizing peek at his upcoming book, a reimagination of
Alagad ni Kalantiao
(or so close buddy
Marco
says). Three years in the making, watch out for this killer book, to be distributed by
Nautilus Comics
.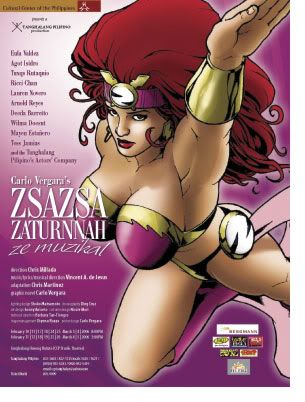 Zsa Zsa Zaturnnah flies...live! The popular heroine belts out songs and action in
Carlo Vergara's Zsazsa Zaturnnah: Ze Muzikal
, starring Eula Valdez and Agot Isidro, with direction by Palanca Awardee Chris Millado. For show details, visit
Carl's blog
. For tickets, contact:
Tanghalang Pilipino 832-3661 / 832-1125 locals 1620 / 1621 /
(0920) 953-5381 / 0920 953-5419
email ccptanghalan@yahoo.com
TicketWorld 891-9999