daughter time and new books
I have a temporary new business partner who sits next to me in my office - Sage. This morning she called me:
SAGE: Dad?
ME: Sage? Hi, sweetie. What's up?
SAGE: Dad, I'm going to take a bath first.
ME: Ok. Before what?
SAGE: Before I visit you.
ME: At my office?
SAGE: Yes, Dad. I want to play there.
ME: But Daddy's working.
SAGE: I'll be good.
ME: Okay, then. I'll wait for you.
She arrived in a flurry of pink and commandeered my absent partner's seat. As I handle phone calls, answer emails and compose campaign elements, she stamps, draws, cuts, folds, staples, measures, laughs, asks questions, spins, laughs louder, tells stories and makes my life beautiful.
Just before she arrived, a package from Amazon appeared on my desk. I am starting to no longer to shocked by the incredible logistics of this company. I placed an order on May 29, was advised I'd get it in July, and here it is. I opened the box with glee and leafed through my new additions to the bookshelf at home, single author collections that I can't wait to devour:
The Emperor of Gondwanaland
by Paul di Filippo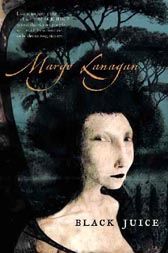 Black Juice
by Margo Lanagan
The Shadow at the Bottom of the World
by Thomas Ligotti
Three new books and a wonderful daughter. Now that's the good life.