fantasy weekend
My long weekend began on Saturday afternoon. I was invited to read one of the finalist stories for the prose category of the 1st Philippine Graphic/Fiction Awards, the contest sponsored by Fully Booked and Neil Gaiman. I was hoping against hope they'd assign me Ian's story, and when I checked my messages, I got exactly that.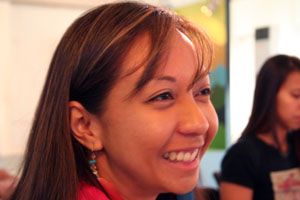 I arrived at the unexpectedly cold Rockwell Tent and linked up with good friend (who keeps calling me "ex-boss", because, well, she worked for me a few years ago) and Fully Booked Marketing Manager
Tals Diaz
. We smoked our first cigarettes outside in the blessed warmth as she told me her hilarious experiences putting up the event.
Onstage was the Comics Panel, with the formidable
Gerry Alanguilan
and the expressive
Wilson Tortosa
(plus a couple of other guys I didn't know personally. Later, I ribbed Gerry about how he's mellowing in his dotage, given the fact that he did not go into a frenzy at the mention of "manga".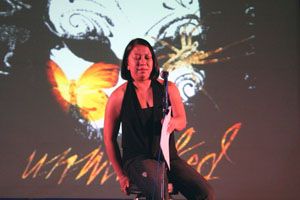 I met
Ramona Diaz
, who directed the Sundance-award winning documentary "Imelda". She was there to read too and we hit it off instantly, soon exchanging promises to work together or pass materials and content. I askd her questions about her film and she told me incredible anecdotes about the First Lady, while filming in New York.
My crush that day though was a soft-spoken girl in fishnets. We started talking about writing and it turns out she's a songwriter. Later, I brilliantly came to conclusion that she was a reader too and finally asked her who she was. She was
Aia de Leon
, singer/songwriter of Imago (which just goes to show exactly how much I know about the music scene). I loved the way she read her piece best, because she straddled the stage, microphone in front, as if she was about to launch into a single, though a capella.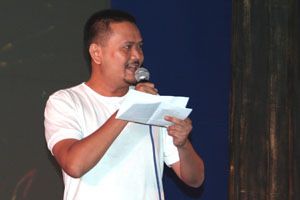 When I read, I refused to sit on the stool in the middle of the stage, preferring to walk around (kunyari may blocking haha), and later, sitting down on the stage steps.
I read one of my favorite parts of Ian's story, where the names of places on the map cascade like raindrops.
Time passed. I met a lot of people, friends old and new. I happily signed copies of "
Salamanca
" and "
Philippine Speculative Fiction
" as I was ambushed by people who were looking for me (thanks, folks!). I think I signed around 15 or so books, which is why, later, some people told me to be upset with Fully Booked because they had no copies of my books. Well, that's because they sold out again.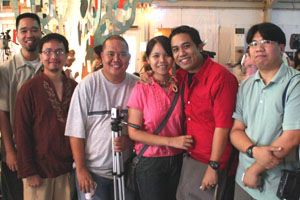 It was like a reunion for comic book creators and enthusiasts. Above, that's Ariel
Atienza
,
Jonas Diego
,
Gerry Alanguilan
,
Cynthia Bauzon-Arre
,
Arnold Arre
, and
Azrael
. It was great talking to the Arres and finding out what they're up to (the answer is "Cast").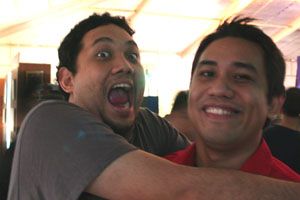 Comic book fans were everywhere and poor Arnold was accosted by a particularly frenzied one, haha. No, that's
Quark Henares
mugging for me before we both waxed rapturously over "Lost".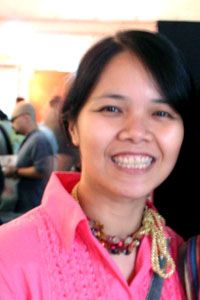 Here's a shot of
Ate Cyn
, one of my favorite people in the world. I asked her if she minded that I asked her the same question every time I see her... :) Hindi naman daw.
Soon it was time for the real reason for the celebration, the annoucement of the winners. Earlier, I posted that somehow I wished that Ian would win AND that someone new and unpublished would also win. You know what? I got both.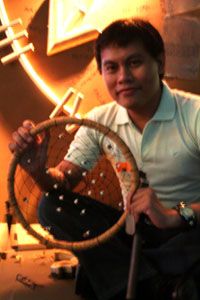 Ian Casocot
, "A Strange Map of Time"
Ian Casocot
and
Michael Co
shared first prize (and P50k each), announced via video by Neil Gaiman. When Ian came up the stage, I elbowed Greg Brilliantes who was next to me and said "That's my friend!", haha, I was that proud of him. Parang ako ang nanalo, talk about vicarious experiences.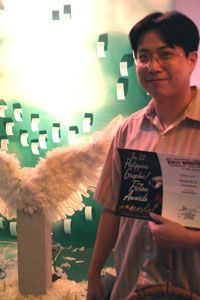 Michael Co
, "The God Equation", with his vignette (the Fully Booked management created vignettes for each of the finalists)
Later, I got to talk to Michael Co, who surprised me by telling me that he had read and enjoyed my work. I was happy for him as well, because we need more new writers. I really hope to read more from him soon.
Next: New Worlds Alliance