starstruck
I was the roving photographer (and my wife's best accessory) at the Ateneo Library of Women's Writings unveiling of its New Stars - The Now Generation of Filipino Women Writers, last week at the Ateneo de Manila University in Quezon City.
As I walked around taking pictures of the event, I griped to Krip Yuson ("why, during my time, was there never anything like this?"); rolled eyeballs with Sarge Lacuesta (we were just together a few days ago, judging the fiction entries for UST); ribbing Jimmy Abad (because Cyan sent him in her stead and she's
much
prettier); putting Story Philippines editor Jade Bernas on the spot, again ("So, when is the next issue coming out?"); exchanging stories with Aparna Halpe (a visiting scholar from the University of Toronto); and being generally delighted and stunned by the event itself (they had banners for each of the New Stars - and Nikki, of course, was the most beautiful).
Okay, now with my obvious envy out of the way, here are some pics.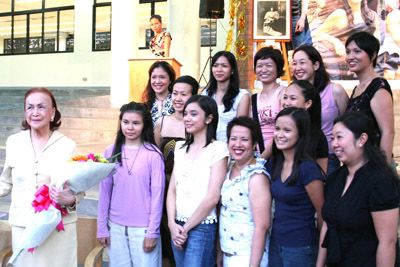 The New Stars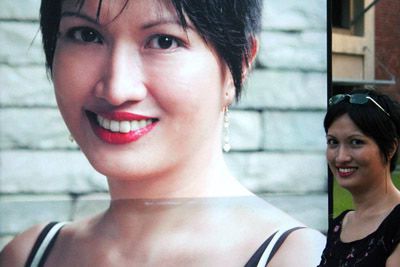 Nikki with her giant banner. I'm going to ask for it so I can set up a shrine at home.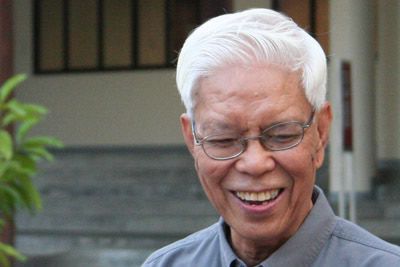 Greg Brilliantes (I'm still intimidated and haven't managed to ask him directly for a story for my next antho - gah)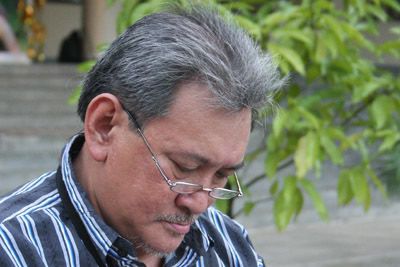 Krip Yuson, the other photographer and supportive dad (his daughter, Mirava, was one of those honored)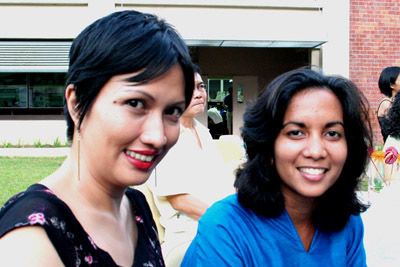 Nikki Alfar and Aparna Halpe. I met with Aparna the next day and spent an afternoon talking spec fic, postcolonial head/heartaches and why the sense of wonder is important.
Here's the list of the now generation of Filipino Women Writers:
Cyan Abad-Jugo
Francis Alcaraz
Nikki Alfar
Christine S. Bellen
Rica Bolipata-Santos
Becky Bravo
Conchitina Cruz
Nerisa del Carmen Guevara
Mookie Katigbak
Fran Ng
Jema M. Pamintuan
Girl Valencia
Mirava Yuson
Labels: literature