fantasy weekend 2
On Sunday, I was back at the Rockwell Tent, along with Nikki and Sage plus Uncles Vin, Andrew, Alex and Auntie kate, for the Writers Forum, one of the events of the New Worlds Alliance and Aegis. This time I came prepared and brought a jacket (the day before, I paid for wearing a thin camisa shirt which left my nipples in a less than demure mode).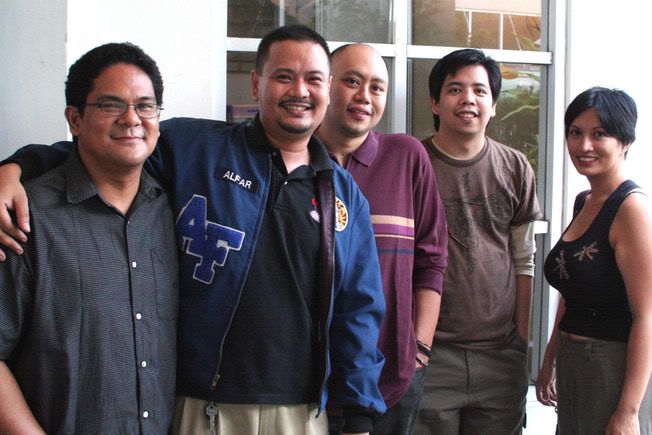 With me in the panel were
Emil Flores
,
Vin Simbulan
,
Tobie Abad
and
Nikki Alfar
. We met with moderator
Karen Kunawicz
and were led to the mini-theatre were we spoke about writing speculative fiction in the Philippines. Having Emil there was a wonderful thing, as he was able to give an academic spin on things. Ultimately, there was a call for more dialogue about spec fic, a direct request to me to hold a spec fic workshop, to publish more and to market more. There is a lot to do but i think that with focus, resources and resourceful people, we can achieve things. I was happy to meet various people from the audience, during and after the panel, and tried my best to answer their varied questions (and I'm sure my opinionated nature made itself evident haha). I'm glad there are people who care - but what I really want to encourage is more quality writing in the various subgenres of spec fic (particularly scifi, which I am hard-pressed to write myself, being more of a fantasy bent).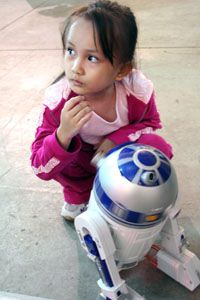 Around the Con,
Sage
fell in love with R2D2 and followed the little droid around, tickled pink by the robot's camera and quirky movements. The Star Wars people were very cool and accomodating, and Sage was in kiddie heaven, until...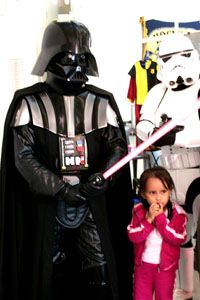 ...Darth Vader and a Stormtrooper came up. My poor little girl was terrified and burst into tears after the picture. "I don't like the black man," she told me when her sobs subsided.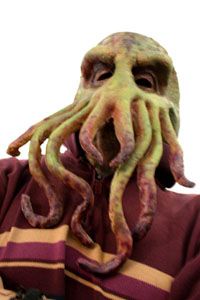 In the meantime, Vin gave in to the Call of Cthulhu,
kate got a dragon tattoo,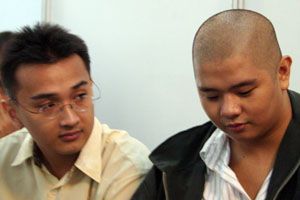 while El and Andrew strategized on how to deal with Sage whose parents were both on the panel. Andrew, sick and all, valiantly handled Sage for over an hour, running around everywhere, having a picnic outside and exhausted himself, while El ran for food and drinks. Thanks, guys!
There were many costumed people around like the Narnians, the Harry Potters, the LOTR guys, Star Wars, Charmed and everything Level Up. I particularly liked the Star Trek folk in their classic attire (i especially love the nun at the back whose name I failed to get).
We didn't stay long and opted to drive to Dampa for our regular prawns and inihaw na liempo before going home and collapsing in bed.
All in all a tiring but rewarding weekend!