philippine speculative fiction vol.2 antho launch
If there's anything we've learned about holding a book launch in December in Greenhills, it's to expect rain, heavy traffic and impossible parking. But the impossible is well within the purview of spec fic, so we braved the horrors (on the same day that the ASEAN summit was cancelled in another part of the country) for the sake of fiction and fun.
People came with friends and family in tow to the warmth of The Coffee Bean and Tea Leaf resto at the Promenade, the venue of the launch (great thanks to Walden Chu and Paolo del Rosario for their hospitality), and soon we were ready to begin.
I spoke about what speculative fiction was, why it was important that we develop it and make it more widespread, and how its intrinsic value was beyond question. Then I called each of the authors present, introduced them and presented each with copies of the anthology. We missed, of course, contributors who could not make it to the launch: Apol Lejano-Massebieau who is in France, Rochita Loenen-Ruiz who is the Netherlands, Michael Co who I think is in Indonesia, and Jonathan Siason who is in Zamboanga. Soon we had readings from the anthology: Stan Geronimo read from his "The Sign of the Cross", Mia Tijam read from her "Waiting for Agua de Mayo" and Kate Aton-Osias read for her "Snippets".

Joshua So, Stan Geronimo, Mia Tijam, Joey Nacino, Yvette Tan, Maddy Ong, Oscar Alvarez, Andrew Drilon, Alex Osias, Kate Aton-Osias, Vin Simbulan, Nikki Alfar, Jessi Albano
Afterwards, there was much coffee, talk, laughter and book buying (yay). I was delighted to finally meet the authors I hadn't personally met before (I knew them just via their stories and email). I was happy that contributor Allan Lopez made it somehow as I've been wanting to meet him.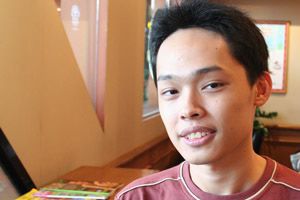 Stan Geronimo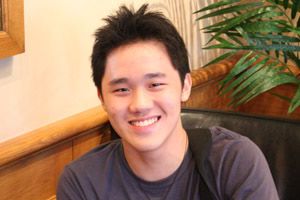 Tokwa So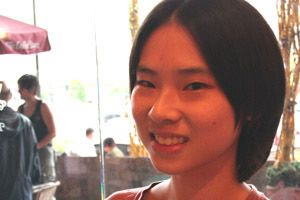 Maddy Ong
Vin Simbulan and Oscar Alvarez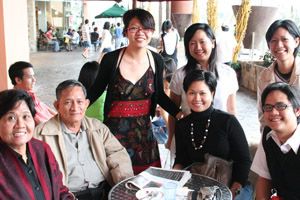 Mia Tijam and family (special shout out to Aprille for all her support!)
Alex and Kate Osias and family
Charles Tan and Gabby Lee (fresh from Singapore)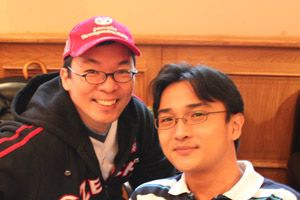 Publisher Kenneth Yu and sexbomb Elbert Or
Kenneth Yu also brought copies of the premiere issue of
The Digest of Philippine Genre Stories
, which also made brisk sales. He also brought his advance copy of the latest issue of Story Philippines...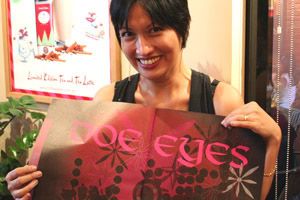 Nikki Alfar with her new story "Doe Eyes"
...which made Nikki very happy as her new story, "Doe Eyes", is published there.
Lucas Pison and Sage Alfar. My daughter, Sage, was one of the loudest hooters and clappers, of course.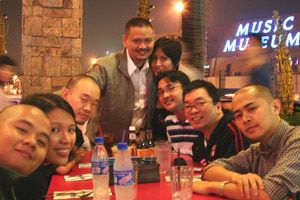 Aftermath dinner at Tender Bob's with Dino Yu and friends.
Thanks to all our friends and readers who came to support the book. It really means a lot to me that you made it!
With this, I'm done with all my publishing for the year, thank goodness.
Now to start planning the next one...
Labels: literature, spec fic